Updated for 2021
Maxi scooters are the largest, most powerful, and most luxurious of scooters, but they're also the most expensive. They're suitable for two-up riding, interstate usage, and even touring with a little additional luggage. The only downside other than the price is that they often lack the full step-through frame of most of their smaller cousins. Unfortunately, there are not a lot of maxi scooters still being sold in the US.
Yamaha has discontinued both of their larger scooters including the older 33.5 HP, 395cc 4-stroke fuel injected, liquid-cooled Majesty ($6,850) which weighed 467 lbs, got 50 MPG, and had a 3.7 gallon gas tank. They also pulled the plug on the 46 HP, 530cc liquid cooled, fuel injected TMAX ($10,490).
Honda has discontinued its trademark maxi scooter, the Honda Silverwing, and Suzuki has dropped the Burgman 650 ($11,049) from its lineup. BMW's C 650 GT ($10,995) is gone now too.
As far as we know, there are no 600cc or larger scooters still selling in the U.S. The closest is the 2021 Kymco AK 550 ($9,399), which offers a 550cc engine putting out 53 HP. That's a respectable choice, but many people lack a reputable Kymco dealer in their area.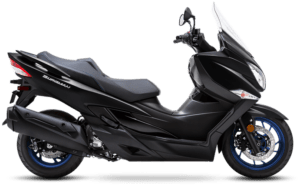 Among traditional powersports dealers, only two options remain: The 2020 Suzuki Burgman 400 ($8,299) and the new 2022 BMW C 400 GT ($8,495). It's unclear if the Burgman 400 will have a new model year added to the lineup.
The 2020 Suzuki Burgman 400 ($8,299) offers a 399cc, 4-stroke, liquid-cooled, single cylinder, DOHC engine, which offers "great low- to mid-range torque with a powerful peak performance, even when riding with a passenger." It has a 3.6 gallon fuel tank, 15″ front wheel, and 13″ rear wheel. ABS, Metallic Matte Black bodywork, advanced LED lighting, and a 42-liter under-seat storage compartment round out the package. It has a curb weight of 474 lbs.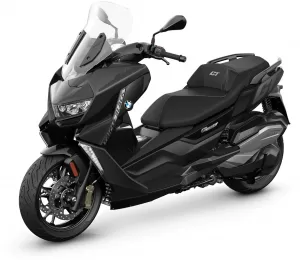 The 2022 BMW C 400 GT ($8,495) offers a 34 HP, 350 cc,  4-stroke, liquid-cooled, single cylinder engine, with a top speed of 86 mph. It has a 3.4 gallon fuel tank, 15″ front wheel, and 14″ rear wheel. It includes BMW Motorrad ABS, double front disk brakes, LED lighting, USB charging socket, and an optional "Premium" package with heated grips and a heated seat. It has a curb weight of 472 lbs.
Maxi scooters offer almost unlimited flexibility and capability, but the options are quite limited right now. Used models from Honda, Yamaha, Suzuki, and BMW are still out there, though, and would make good alternatives to limited new inventory.
Note: All prices given are MSRP and do not include tax, license, registration, destination charges, or dealer-installed options.