Maxi scooters are the largest, most powerful, and most luxurious of scooters, but they're also the most expensive. They're suitable for two-up riding, interstate usage, and even touring with a little additional luggage. The only downside other than the price is that they often lack the full step-through frame of most of their smaller cousins. Unfortunately, there are not a lot of maxi scooters still being sold in the US.
Yamaha has discontinued both of their larger scooters including the older 33.5 HP, 395cc 4-stroke fuel injected, liquid-cooled Majesty ($6,850) which weighed 467 lbs, got 50 MPG, and had a 3.7 gallon gas tank. They also pulled the plug on the 46 HP, 530cc liquid cooled, fuel injected TMAX ($10,490).
Honda also seems to have discontinued its trademark maxi scooter, the Honda Silverwing ABS.
Kymco has stopped selling maxi scooters here, such as the 38 HP, 499cc, $5,999 Kymco Xciting 500Ri ABS.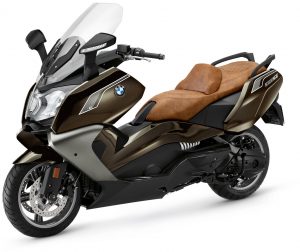 One of the best remaining maxi scooters is made by BMW, a company known for luxury that doesn't even offer smaller scooters. The 60 HP, 647cc 2019 BMW C 650 GT ($10,995) gets 51 MPG and has a maximum speed of 112 MPH. This 575-lb scooter offers a liquid cooled, 4-stroke parallel twin engine with four valves per cylinder, double overhead camshafts, and dry sump lubrication. In addition to the ABS (anti-lock braking system), a fully-fledged ASC (Automatic Stability Control) is now standard for C 650 GT. For an additional $650, you can get a "premium" package with heated grips, a heated seat, and a tire pressure monitor (TPM). There are numerous options available including a lowered seat, top case, and an anti-theft alarm system with a remote control.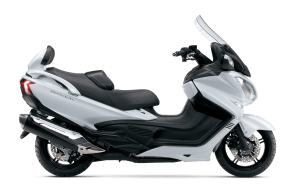 Suzuki has a pair of maxi scooters on the market, both the smaller 32 HP, 399cc single cylinder 2019 Burgman 400 ($8,199) and the larger 54 HP, 638cc 2-cylinder 2018 Burgman 650 Executive ($11,049) which competes directly with the BMW. Both offer ABS, fuel injection, and liquid cooling. The 400 has a 3.6 gallon gas tank with a 14 in. front wheel and a 13 in. rear wheel. The 650 has a 4.0 gallon gas tank with a 15 in. front wheel and a 14 in. rear wheel. The 650 also has several luxury features including a power adjustable windscreen and mirrors, adjustable rear suspension, and what is known as "Computerized Suzuki Electronically-controlled Continuously Variable Transmission" or SECVT. This system offers three modes: Two fully automatic CVT modes (Drive and Power) plus a Manual Shift mode controlled by a handlebar-mounted rocker button.
Any of the maxi scooters listed here would be a great choice for almost any scooter task you can imagine.
Note: All prices given are MSRP and do not include tax, license, registration, destination charges, or dealer-installed options.