Updated for 2021
200cc to 350cc class scooters offer a great combination of agility and speed. They are fast enough to use on the freeway, strong enough to easily carry a passenger, and still offer better fuel economy than most Maxi scooters. The scooters we have included in this class range from 200cc to 350cc and include models with more traditional styling and models which look more like their larger brothers in the Maxi scooter class.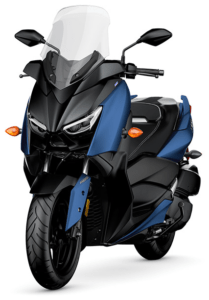 Sadly, while these faster 250cc class scooters are well suited to American life, they are underrepresented in the market, with only a handful of available models. The Honda Forza, which was one of the best, has been discontinued. So has the Genuine Blur 220i.
The best remaining option in the class is likely the 2021 Yamaha Xmax ($5,799), which features a 292cc 4-stroke, fuel injected, liquid-cooled powerplant, yet still tips the scales at less than 400 lbs. It includes a 3.4 gal fuel tank and gets an estimated 75 MPG. It features large 15-inch front and 14-inch rear wheels for enhanced handling, and it includes both anti-lock brakes (ABS) and a traction control system.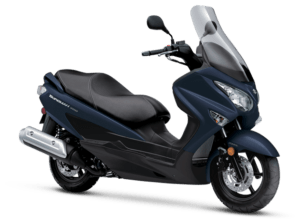 From Suzuki comes the 2022 Burgman 200 ($4,999), which, although slightly smaller than its rivals at exactly 200cc, still offers a liquid-cooled, fuel-injected engine that accelerates smoothly. Suzuki's Burgman line has perfected the Maxi scooter game, and this smaller Burgman shares its larger siblings' style.
An expansive powersports dealer network is a valuable bonus when buying a scooter from Honda, Yamaha, or Suzuki.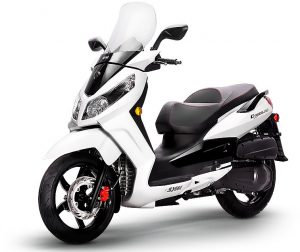 Sym also has a powerful middleweight scooter available. The 27.9 HP, 278cc 4-stroke fuel injected, liquid-cooled Citycom S 300i. The Citycom has a top speed of 83 MPH and gets an estimated 84 MPG. If you are fortunate enough to have a SYM dealer in your area, this one is worth a look. (No MSRP is available at this time.)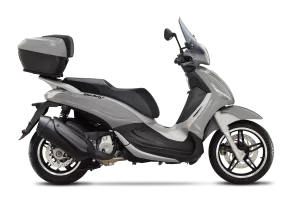 Piaggio's BV 350 ($6,699) scooter is a competent competitor, albeit a bit pricier than its rivals. It's 350 cc 4-stroke fuel injected, liquid-cooled engine delivers 30 HP while still offering a more classic style compared to the mini-maxi style embraced by many in this class.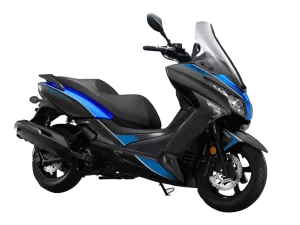 From Kymco comes the 2021 X-Town 300i ABS ($4,899), a mouthful of a name for a well-appointed and affordable option, if you happen to have a dealer in your area. The X-Town's 275.6cc fuel-injected, liquid-cooled engine delivers 24.1 HP and 64.9 MPG to the 407.8 lbs scooter. Kymco advertises the X-Town as Powerful enough for the highway, but nimble enough for urban riding. While no doubt accurate for this scooter, it's a fair description of the whole class. Still, Kymco offers good value for its specifications.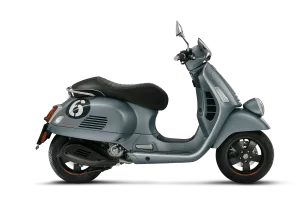 In addition to five options listed above, you'll find some choices from Vespa, though with significantly higher prices (and smaller tires) than their rivals. The GTS 300 ($7,099) and GTS 300 75th ($7,949) are powered by a 23.8 HP 278.3 cc fuel-injected, liquid-cooled engine, which nets 73 MPG. That's less power than most of its rivals for thousands of dollars more.
Despite adding "super" to the name, the GTS Super 300 family doesn't improve on those specs, just offers some different styling cues. You can choose from the GTS Super 300 ($7,199), GTS Super 300 Sport ($7,299), GTS Super 300 Racing Sixties ($7,299), and the GTS Super 300 Tech ($7,749). You can also get the Sei Giorni 300 II Edition ($7,749), but it too has the same engine. These are competent scooters, to be sure, but the Vespa name still carries a financial premium.
Any of these 200cc – 330cc class scooters would be a fine choice for a broad range of uses. They will last you for many years of fun on two wheels.
Note: All prices given are MSRP and do not include tax, license, registration, destination charges, or dealer-installed options.