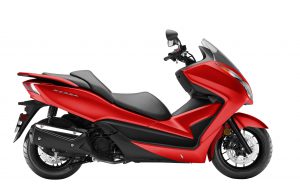 250cc and 300cc class scooters offer a great combination of agility and speed. They are fast enough to use on the freeway, strong enough to easily carry a passenger, and still offer better fuel economy than most Maxi scooters. The scooters we have included in this class range from 200cc to 330cc and include models with more traditional styling and models which look more like their larger brothers in the Maxi scooter class.
One of the best options in this class is the 24.5 HP, 279cc 4-stroke fuel injected, liquid-cooled 2016 Honda Forza ($5,599). It gets an estimated 69 MPG, has a 3-gallon gas tank, and can fit two full-face helmets under the seat.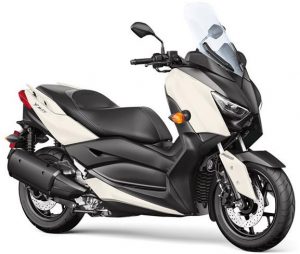 Another excellent option is the 2019 Yamaha XMAX ($5,599) which is a direct competitor to the Honda Forza. Weighing in at less than 400 pounds, but equipped with a 292cc 4-stroke, fuel injected, liquid-cooled powerplant, the XMAX is a significant player in this segment. It includes a 3.4 gal fuel tank and gets an estimated 75 MPG. It features large 15-inch front and 14-inch rear wheels for enhanced handling, and it includes both anti-lock brakes (ABS) and a traction control system.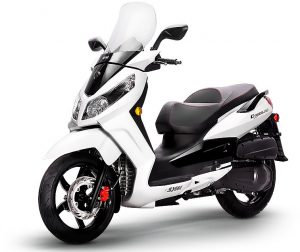 Sym also has a powerful middleweight scooter available. The 27.9 HP, 278cc 4-stroke fuel injected, liquid-cooled Citycom S 300i ($4,999). The Citycom has a top speed of 83 MPH and gets an estimated 84 MPG.
From Suzuki comes the smallest of their Burgman line, the 18.1 HP, 200cc 4-stroke fuel injected, liquid-cooled 2019 Burgman 200 ABS ($4,999).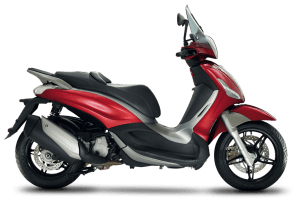 The 30.2 HP, 330cc 4-stroke fuel injected, liquid-cooled Piaggio BV 350 ABS ($6,599) is a bit larger than the other 250cc class scooters listed here, but due to its design, it doesn't really compete directly with other Maxi scooters. Despite having the most powerful engine in its class, it still gets an estimated 65.4 MPG.
Genuine used to offer the 14.9 HP, 220.1cc 4-stroke fuel injected, air-cooled Genuine Blur 220i ($3,999), but it has since been discontinued. This was Genuine's largest scooter; weighing in at 320 lbs and getting an estimated 70+ MPG.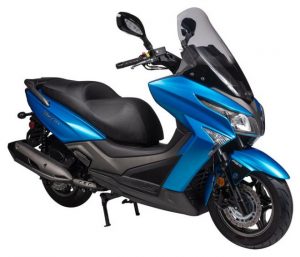 Kymco offers the 398.2-lb., 23.2 HP, 275.6cc 4-stroke fuel injected, liquid-cooled 2019 X-Town 300i with ABS ($4,149). This scooter gets an estimated 65 MPG.
Vespa offers several variations of its 21.2 HP, 300cc 4-stroke fuel injected, liquid-cooled GTS 300 including the CC ($6,949), TOURING ($7,149), and YACHT CLUB ($7,049). The GTS SUPER is available in the 300 ($7,049), SPORT 300 ($7,149), and NOTTE 300 ($7,049). Finally, there is the predominantly steel GTV 300 SEI GIORNI ($7,699)
Any of these 200cc – 330cc class scooters would be a fine choice for a broad range of uses. They will last you for many years of fun on two wheels.
Note: All prices given are MSRP and do not include tax, license, registration, destination charges, or dealer-installed options.