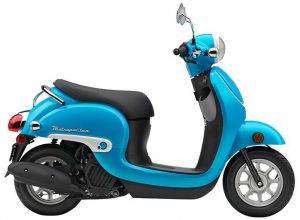 There are many good options in this category from almost all major manufacturers. For a classic design, it's difficult to beat the 2019 Honda Metropolitan ($2,499). There are also two great (though expensive) choices from Vespa, the PRIMAVERA 50 MY17 ($3,949) and the SPRINT 50 MY18 ($4,049). Yamaha's take on the classic scooter is the appropriately named Vino Classic ($2,299) available for 2018 in a beautiful Deep Sea Blue / Vanilla White.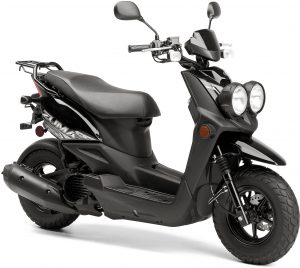 For a more rugged look, the 2019 Honda Ruckus ($2,749) and Yamaha Zuma 50F ($2,599) are also excellent choices. The related Yamaha Zuma 50FX ($2,599) has a slightly sportier appearance.
Slightly less expensive options include the Genuine Buddy 50 ($1,999) and Genuine Buddy International 50 ($2,199) with a classic design or the Genuine Roughhouse 50 ($1,999) and the Genuine Roughhouse 50 Sport ($2,299) with a rugged design. There is also the Genuine Rattler 50 ($2,399). Each of these small Genuine scooters has a 49.7cc 2-Stroke, Air-Cooled engine and gets more than 100 MPG.
There's also the classically styled 1.9HP Sym Mio 50 ($1,999) with a 49cc Ceramic-coated Engine, the sporty Aprilia SR Motard 50 ($2,199) with large 14″ wheels, and the rugged Kymco Super 8 50X ($1,899).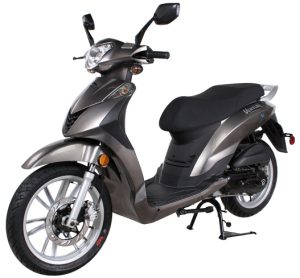 Piaggio offers the Typhoon 50 ($1,999), the Fly 50 4V ($2,299), and the Liberty 50 ($2,399).
If you're really looking to keep costs down, the Genuine Venture ($1,899) has 16″ front and 14″ rear alloy wheels and an unbeatably low price. The Kymco Agility 50 ($1,649) and the Kymco Like 50i ($1,649) are some other affordable quality scooter.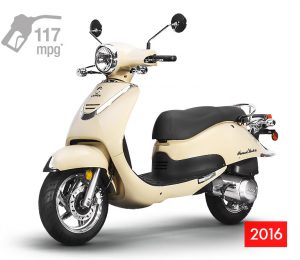 Lance (built by Sym) offers FIVE different designs of 30 mph, 1.9 HP, 49cc scooters (each with a 24-month warranty and available in a selection of colors) with prices ranging from $1,799 to $1,999. They are the Cali Classic 50, Havana Classic 50, PCH 50, Cabo 50, and Soho 50.
There are quite a number of 50cc class scooters available, but the ones listed above are all fine choice that will last you for many years… In all likelihood, you'll choose to upgrade to something faster and more powerful long before your little 50cc scooter gives up on you.
Note: All prices given are MSRP and do not include tax, license, registration, destination charges, or dealer-installed options.