Updated for 2021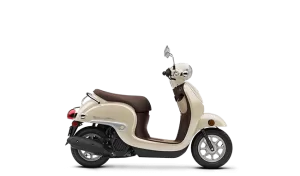 When many people think of scooters, a diminutive 50cc scooter is what comes to mind. There are many good options in this category from almost all major scooter manufacturers. For a classic design, it's difficult to beat the 2022 Honda Metropolitan ($2,499). For a more rugged look, the 2022 Honda Ruckus ($2,799) offers similar performance.
Unfortunately, the popular Yamaha Zuma 50cc class scooters are now discontinued. The Yamaha Vino has also been discontinued.
Vespa offers it's well-crafted (though expensive) Sprint model in three different 50cc class choices including the Sprint 50 ($4,099), Sprint 50 S ($4,249), and the  Sprint 50 Racing Sixties ($4,199).  The Vespa Primavera comes in six different 50cc class choices including Primavera 50 RED ($4,099), Primavera 50 Touring ($4,199), Primavera 50 75th ($4,499), Primavera 50 30 mph ($3,999), Primavera 50 ($3,999), and the Primavera 50 Sean Wotherspoon ($4,399)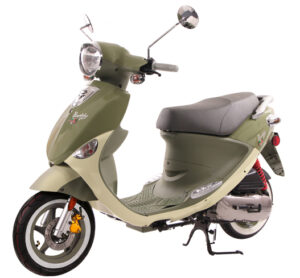 Genuine's current lineup of 50cc class scooters features the Brio 50i, Buddy 50, Buddy International 50, Roughhouse 50, Roughhouse 50 Sport, and the Urbano 50i. Each of these small Genuine scooters has a 49.7cc 2-Stroke, Air-Cooled engine and gets more than 100 MPG. Genuine no longer includes MSRP information on their website, so you are advised to contact your local dealer for current pricing.
Kymco offers the Agility 50 ($1,879), A Town ($2,149), and the Super 8 50X ($2,029).
Piaggio offers the Liberty 50 ($2,399) and Liberty 50 S ($2,499).
SYM (Distributed by Alliance Powersports) only offers one 50cc class scooter in the U.S. and that's the Mio 50, which features a 1.9HP 49cc engine getting an estimated 110mpg.
Aprilla lists the SR and the SXR on its website, but does not provide MSRP or availability data. Sadly, these scooters no longer appear to widely available in the United States.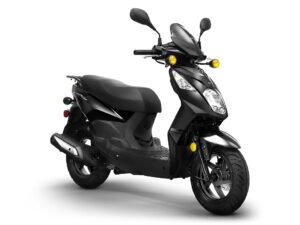 Lance (built by Sym) offers six different designs of its 30 mph, 1.9 HP, 49cc scooters (each with a 24-month warranty and available in a selection of colors) with prices ranging from $1,799 to $1,999. They are the Cali Classic 50, Havana Classic 50, PCH 50, Cabo 50, Soho 50, and PCH 50 Delivery.
There are quite a number of 50cc class scooters available, but the ones listed above are all fine choice that will last you for many years… In all likelihood, you'll choose to upgrade to something faster and more powerful long before your little 50cc scooter gives up on you.
Note: All prices given are MSRP and do not include tax, license, registration, destination charges, or dealer-installed options.