Its first public appearance was at last year's EICMA motorcycle show as a concept model. Blending the all-around potential of an adventure bike with a scooter's practicality, the X-Adv was little more than an interesting concept until Honda recently announced it as a proper 2017 production model.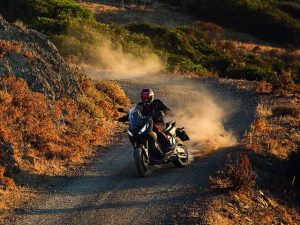 According to Honda's press release, the X-Adv is a "new breed of motorcycle." Indeed in the past, very few manufacturers attempted to infuse off-road abilities into scooters, and most of them were restricted to little more than sparse adventurous-looking details (hand guards, high fenders). Some notable examples would be Yamaha BW's and the Peugeot Trekker 100, tiny commuters that looked the look, but didn't actually walk the walk off paved roads.
Perhaps the concept of an adventure scooter should be credited to Brutus, a prototype first introduced on 2012. The marriage of a fat-tired off-roader with a 750 cc single coupled to a scooterish automatic transmission seemed even more novel at the time, nevertheless Brutus still hasn't made it to the production lines – despite the fact that it keeps on returning to EICMA in conceptual form every year since its introduction.
Little is known about the X-Adv, with most details coming from Honda's spartan release and the rest from what we can make out of the accompanying images. It is based on the City Adventure concept from the 2015 EICMA, equipped with long travel suspensions and Honda's Dual Clutch Transmission as standard. An adjustable screen and an underseat storage space that can accommodate an off-road helmet sum up the little info that Honda has revealed for the time being. The full specs will be made public at the EICMA presentation in early November.
Beneath the plastics, chances are we will find the 745 cc in-line twin engine of the NC series, producing 54 hp (40.3 kW) and 68 Nm (50 lb-ft) with outstanding fuel efficiency. It fits the bill perfectly with its forward-inclined cylinders suspended from a versatile frame that is used as the main building block in a diverse variety of models – the Integra scooter, the NX750X adventure bike and the NC750S roadster all share the same running gear, differing only in costumes and rider ergonomics.
The three action images that Honda revealed today portray an unpainted production model that has retained the 2015 concept's looks, including the inverted forks and what appears to be a big digital instrument display.
We'll know more in a few weeks' time when New Atlas will be reporting from the ground at the 2016 EICMA motorcycle show in Milan, Italy. Until then, Honda keeps things interesting with its latest teaser video.