After a long wait, we recently heard about Aprilia's SR 150 scooter coming to India this month. Now there's more news about a confirmed launch date that has been set for 22 August.
Fans of the brand, including those who have pre-booked the scooter can now breathe a sigh of relief knowing that a delivery date is in sight.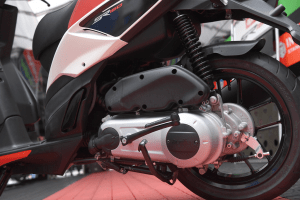 The scooter will be manufactured in Maharashtra, India and parent company Piaggio Vehicles Private Ltd will handle the sales. The Aprilia SR 150 will be priced at Rs 65,000 and the roll out for the same is said to begin in August.
Targeted as the quintessential sport scooter, the Aprilia SR 150 showcases a distinctly European design language with contemporary looks. The styling is sporty with an overall aggressive stance that should appeal to youngsters. Aprilia states that the SR 150's styling has been inspired by the RSV1000 R Factory supersport motorcycle.
Similar to others in its class, the SR 150 comes with its headlight embedded into the front apron and the same goes for the turn indicators that have been placed in the handle bar. Beating at the heart of this sporty machine is a single cylinder 150cc, 4-stroke engine.