Driving a scooter around the picturesque streets of Paris can be the best and cheapest thrill the French capital can offer but it's not all smooth riding.
Oh the thrills of riding a scooter in Paris.
Being able to see new the far-off corners of the city, zooming up the hills of Montmartre, and using it for secret encounters with your mistress (as President Hollande famously did).
But it's not all smooth riding. Here are a few practical tips to consider.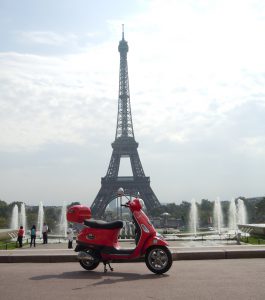 Parking fines
Parking a scooter in Paris (legally) is no easy feat. The main reason for this is because there simply aren't enough parking places.
Some estimates suggest there are 100,000 more scooters than parking spots in the city.
And with a parking fine costing €35, it's not a mistake you want to make too many times.
Where to park?
Look for a sign with a clear blue P and a picture of a motorbike, together with the words "2 Roues" (2 wheels).
You can always leave your car in a garage (see more info here) but be prepared to shell out around €100 a month.
And don't leave it in the middle of the footpath, in front of shop doorways, on man hole covers – you might find it is towed away.
"Parking isn't generally a problem unless you leave it somewhere blatantly obstructing something," says scooter owner David Chambers.
The lack of spaces to park has prompted motorist groups to stage huge protests in the past (see video below), but things haven't changed too much in recent years.
Getting towed
If you've parked illegally, the authorities might take your bike and charge you for the experience (on top of the fine and a few euros per day as a storage fee).
But finding your scooter is missing due to it being towed is better than if its missing because of thieves.
Be prepared for thieves
News flash: There are thieves in Paris. And not only will they try and take things from your bike, they may also try and take the bike itself.
Invest in a proper chained lock to tie it to a pole at nights, otherwise you may join a very long list of people who've woken up to find their bike missing.
A chain will also stop other moped users from moving your scooter so they can pinch your parking spot.
Leave the inside empty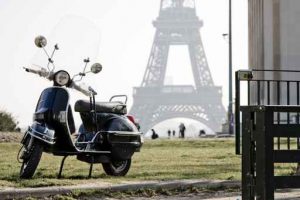 Don't store things inside the seat or the top case – especially not your helmet – as thieves may bust that open too. And accept in advance that the side mirrors may be broken or stolen for absolutely no reason. Sad, but true.
One Vespa owner advised The Local to purposely leave the seat storage unlocked and empty so the thieves won't break the lock in a fruitless attempt to find your valuables.
Get gloves
A recently-passed law means that from November 20th, it will be compulsory to wear gloves if you've got a scooter (or motorbike).
Failing to do so puts you at risk of a €68 fine and the loss of one point from your driving license.
The move is strictly for motorists' safety, with the government's Journal Officiel website saying the move aims to "limit serious injuries to hands and forearms".
Bear in mind you're also supposed to have a high visibility vest on you that you are supposed to wear if you break down.
Get insurance
Insurance might be expensive, but as we mentioned above, there's a good chance your bike will be stolen.
If you don't want to cough up the full insurance, get insured against accidents on the road, as the driving skills of people in Paris can leave a lot to be desired (scooter riders are often just as bad, to be fair).
Lastly, insurance will be a saviour for you if you're unlucky enough to find your bike torched during the night, as 52 bike owners found this weekend.
Riding through the stationary traffic
Since February this year, it has been legal for motorbikers and scooter riders to ride through stationary traffic. They'd been doing it all along, sure, but now it's legal as part of a four-year trial that has also been rolled out in Marseille, Bordeaux, and Lyon. More info here.
But bear in mind you might have to use your horn to get those pesky car drivers to give you enough room to pass.
Overtake at your own peril
Try not to overtake on the right hand side of the traffic, as passenger doors open far too regularly.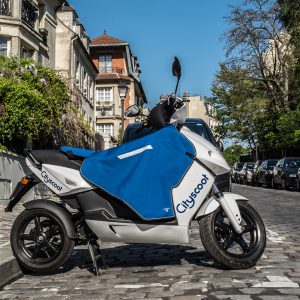 Rent one if you can't buy one…
Of course, you don't have to buy a scooter. Cityscoot rolled out its fleet of electric scooters in June this year, offering those in central Paris their own scooter at a base rate of 28 cents a minute.
Prepare for red lights
There are lots of them. And while cyclists and Velib riders will happily pass through them, often legally, scooters must wait for the green light (even if many don't). But police will be happy to hand out fines if they catch you.
You're not on a Velib bike anymore so..
You have to stay out of the bike lanes. Fed up with the lines of traffic, impatient scooter drivers in Paris often opt for the bicycle lane, but these, officially anyway, are out of bounds.
Enjoy the savings
With basic insurance costing just €40 a month, and with a full tank of petrol costing as little as €5, driving a scooter could end up costing you less than a Navigo pass for public transport.
But remember, it can be a bit miserable in the winter or the rain.
Drive safe!